About TROGIR
Trogir has 2300 years of continuous urban tradition. Its culture was created under the influence of the ancient Greeks, and then the Romans, and Venetians. Trogir has a high concentration of palaces, churches, and towers, as well as a fortress on a small island, and in 1997 was inscribed in the UNESCO World Heritage List.
Trogir is a remarkable example of urban continuity. The orthogonal street plan of this island settlement dates back to the Hellenistic period and it was embellished by successive rulers with many fine public and domestic buildings and fortifications. Its beautiful Romanesque churches are complemented by the outstanding Renaissance and Baroque buildings from the Venetian period.
UNESCO HERITAGE
The Committee decided to inscribe this property on the basis of criteria (ii) and (iv), considering that Trogir is an excellent example of a medieval town built on and conforming with the layout of a Hellenistic and Roman city that has conserved its urban fabric to an exceptional degree and with the minimum of modern interventions, in which the trajectory of social and cultural development is clearly visible in every aspect of the townscape..
---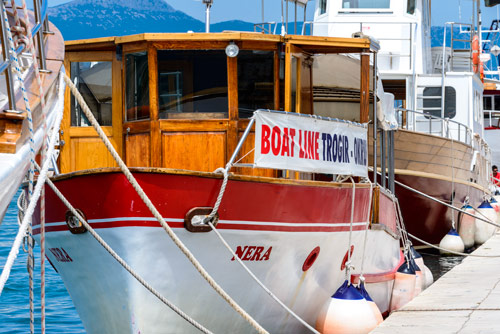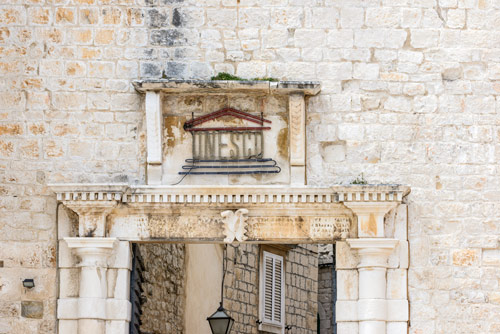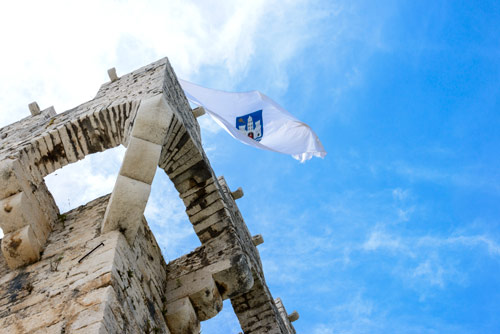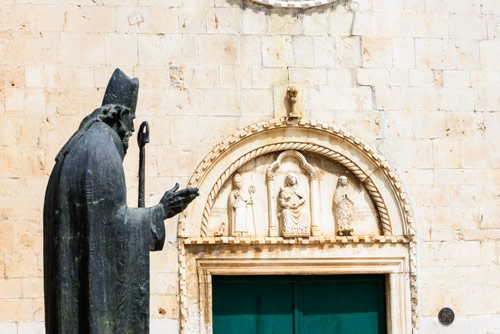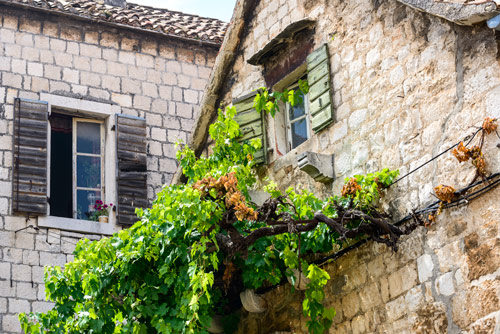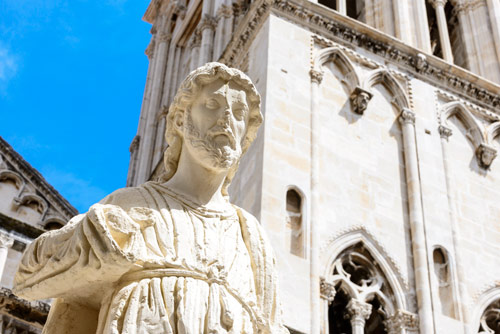 ---
Cultural monuments
In the past, the town was one of the cultural centers of Dalmatia: in the 13th century enriched with the master works of master Radovan and Ivan Lucius, who filled the town with famous sculptors, architectures and paintings. The Radovan Portal was finished in 1240, and is a unique monumental work of this great Croatian artist, of whom the inscription on the base of the lunette says he is "the best of all in this artisanship".

The old town core has been formed between the 13th and 15th century inside defense walls that were restored by Venice in the 15th century. They also added two forts that are still preserved: Castle Kamerlengo and the Tower of Saint Marc. Castle Kamerlengo is situated in the south-west side of the island. Its present shape is in the exact state as it was in the 15th century. South of the castle is the tower of Saint Marc also from the 15th century, and between the tower and the castle there is a gloriet from the time of the French occupation. The eastern part of the town has developed around the main square with the cathedral. The western part named Pasika, was built later in the century.